Delivery Policies
Delivery is available for certain products only. All Special Occasion Cakes and Wedding products including favours and Decorative Cupcakes are available for delivery.
Deliveries within Toronto and the GTA range from $55.00 and up. The delivery fee will be assessed when placing your order. Refer to our delivery map to determine your delivery charge. Deliveries outside the normal delivery areas may be made for an additional fee.
For highly complex cakes like our Custom Luxury Wedding Cakes, a set-up fee may also apply in addition to the delivery fee. This fee will be assessed during your consultation.
If you are outside our delivery area we can arrange for you to transport and set up your own cake that will include increased internal structure and packaging for cake transport for an additional fee. The details can be discussed further at your consultation.
Delivery Map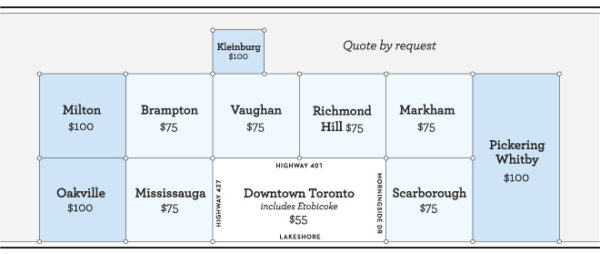 The delivery fees are subject to 13% HST.
You will be assigned a delivery window based on your ideal delivery time.
Courier Service
Courier service is available starting from $25.00 for select pastry shop products.
Please inquire for additional details and pricing.